13 April 2020
Jewellery designers have long looked to the night sky for inspiration. Stars and crescents have been popular motifs since the 17th century with women of the Georgian, Victorian and Edwardian eras adding diamond starbursts and crescent jewels to their collections. Here, we delve into the sparkling history of antique star jewellery and crescent moon jewellery.
The History of Star Inspired Jewellery
In 1676, royal astronomer Sir Edmond Halley travelled to Saint Helena, a remote volcanic outpost in the Atlantic Ocean, to record the path of Mercury in the sky. Some years later, in 1682, he began to use the laws of motion to plot the travels of a specific comet and predict when it would be seen again. When that ball of light flashed across the night sky, just as Halley predicted, in 1758, it was swiftly named in his honour.
Halley's Comet was due to return in 1835, leading many late-Georgian and early Victorian women to seek out comet-themed brooches in gold and diamonds or silver and paste. This fascination with the solar system and its celestial bodies continued long after Halley's Comet disappeared from view.
Antique Star Jewellery of the 19th Century
From the 1860s onward, stars were a hugely popular motif. Stars could be found carved into gemstones, fashioned as brooches and hair ornaments, or formed with pearls (take a look at this sensational Victorian enamel and pearl star locket), opals, rubies, diamonds and other hard stones.
This time period also coincides with the release of From the Earth to the Moon by Jules Verne, which imagined a futuristic journey to the moon in a rocket ship. Victorian era men and women were fascinated by his adventurous tales and demonstrated this through starburst and crescent moon jewels.
Many pieces of antique star shaped jewellery from the Victorian era are set with deep red garnets and described as 'Bohemian'. The name derives from the region of Bohemia, which would later become Czechoslovakia, and references the beautiful garnets mined in this region at the time.
The blend of star and crescent motifs with the Bohemian style (and in some cases the Etruscan style) is emblematic of Victorian era finery.
A Story in the Stars
To understand Victorian era jewellery, including antique star jewellery pieces and crescent designs, you need to know a little bit more about Victorian sentimentality. This was a time of deep, meaningful symbolism – almost like a second language – where love, friendship, loyalty and many other emotions could be silently communicated through specific jewellery styles and motifs, even the placement of gemstones!
Jewellery especially was a discrete form of communication. Crescent moons, for example, were said to represent the powerful feminine 'moon goddess' (an inspiring symbol of women entering the workforce during the Industrial Revolution) as well as periods of change, such as a new relationship, because of the lunar calendar.
Furthermore, Victorian brides wore brooches with a crescent moon cradling a flower on their honeymoon, leading to the name 'honeymoon brooches'. These were all about beauty, femininity and the age-old idea of stars being used as celestial maps to guide travellers' home.
Edwardian Star and Crescent Jewellery
The short reign of King Edward VII from 1901-1910 signalled the Edwardian era – a time of glamour and trend-setting fashions courtesy of Queen Alexandra and her adoration of finery. She was known to wear countless star and crescent moon brooches across her bodice.
These were likely crafted in silver-upon-gold – although platinum was an important and emerging precious metal of the time – alongside diamonds and just a dusting of coloured gemstones, which were very much supporting characters in the jewellery story.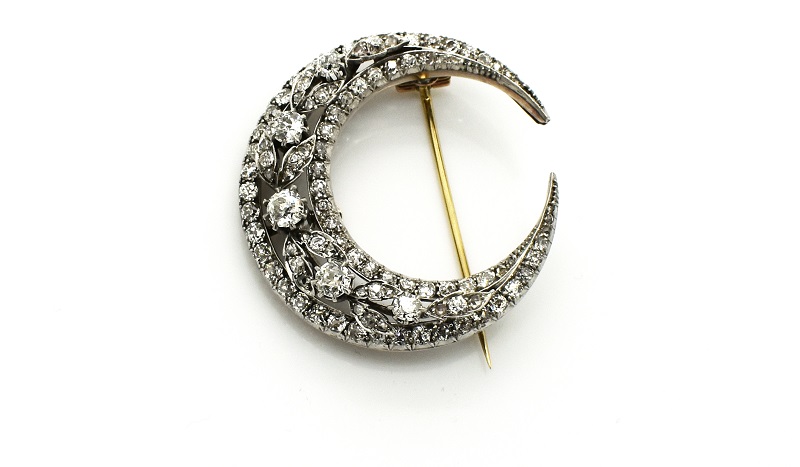 The Moon Landing and 20th Century Star Jewels
Some of the most fascinating vintage star jewellery can be found in the 20th century, including Art Deco examples. During the late 1920 and 1930s, imaginations were gripped by a shiny, automatic and mechanical future, with many trying to envision the world's next cityscape. In the early part of the century, moon, star and sun motifs were popular in all jewellery categories, from fashion to fine.
Discover: Mid-20th Century Diamond Crescent Brooch
Some exciting signed pieces emerge from the late 1950s when the race to the moon became a Cold War reality. The satellite Sputnik, launched in 1957, led to some creative jewelled interpretation, even by the likes of Cartier. By the time Neil Armstrong took 'one small step for man' in July 1969, jewellery houses like Van Cleef & Arpels and Ilias Lalaounis were getting in on the action with commemorative pieces and bespoke commissions, the latter for Jackie Kennedy Onassis.
Don't be fooled into thinking that stars and crescents are a 'modern' jewellery fascination… in fact, this trend can be traced back centuries, with some fabulous examples of these antique star jewellery treasures shining in our collection.
Discover our period jewellery collection, here.
For further information about any of the antique jewellery and vintage jewellery pieces in our collection, please contact us.
Main Image: Antique Diamond Star Tiara, Silver Upon Gold, Circa 1850.