4 May 2020
Earrings have been worn for thousands of years, not simply for adornment but to bestow meaning, status, and power. Antique drop earrings from the 17th to the 20th centuries are some of the most universally beloved, thanks in part to their sparkling diamonds, coloured gemstones and feminine forms.
Here, we delve into the history of antique drop earrings, including the glamorous girandoles of the 18th century and the many variations that swept through Victorian era jewellery. Below, we also share some modern iterations of drop earrings for those who prefer hints of the past with present-day styling.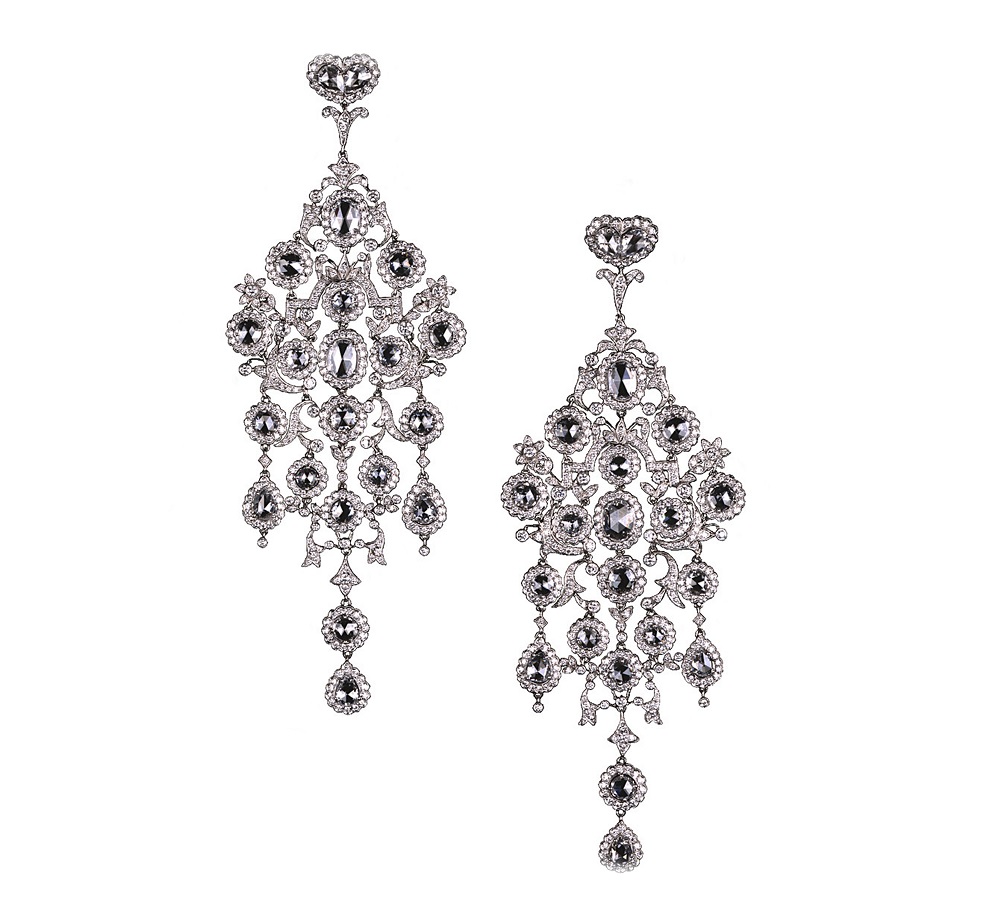 Girandole Earrings
In the early to mid-17th century, earrings were a symbol of upper-class power and poise. It was common to see courtly gentlemen adorned with a single pearl drop earring, akin to Sir Walter Raleigh and King Charles I.
By the 18th century, the Georgian era was dominated by the evolution of the drop earring – the girandole. Named for a type of candelabra, the classic girandole features three pear-shaped drops descending from a central stud motif, often floral or scroll-like. These earrings were well-suited to the swept-up, feminine hairstyles of the day, but they also sparkled perfectly in wax candlelight – an expensive means of lighting evening soirees reserved only for the rich.
Girandoles were worn for daytime and evening occasions, often requiring elaborate means of relieving their sheer weight on the ear; think ribbons, hooks and wires to create loops in the hairline. Discoveries of precious gemstones in South America during this century also added to the allure of sizeable drop earrings.
Later in the 18th century, girandoles gradually shifted towards the pendeloque earring style – an elongated single large drop, often with a bow motif, suspended from a gem-set stud element. In some cases, these earrings could skim the shoulders, demonstrating just how long and elaborate they could be. A simplified version of the pendeloque – a two stone drop earring – is certainly not uncommon today.
Antique Drop Earrings of the Victorian Era
Girandoles and pendeloques continued well into the Victorian era. Foil-backed glass paste was commonly used instead of gemstones to create a bold look, but without the prohibitive cost.
Other antique drop earring styles emerged during the reign of Queen Victoria though, like slim sheets of gold decorated with the hand-stamping repoussé technique. These earrings were lighter, less expensive but no less eye-catching. Colourful gemstones also made an appearance in Victorian England, including stones from South America like aquamarine, amethyst and citrine.
Sparkling diamond or pearl drops were left to dangle within pear-shaped diamond halos in another common Victorian era design. These fell out of favour by the mid-19th century though and were replaced by simple studs… ear-obscuring hairstyles simply didn't accommodate anything bigger.
History Revisited: Antique Revival Drop Earrings
The Victorian era also introduced some more unusual antique drop earring designs. Cameos and intaglios enjoyed a resurgence, largely due to the miraculous archaeological finds that inspired an artistic revisiting of ancient cultures, as did gold filigree. Inspired by the Etruscan civilisation (6th century BCE), Victorian women wore small gold hoops and yellow gold drops with hard stones, engraving and even micro-mosaics.
Another notable design element of the time was golden, needle-like fringing on drop earrings. You would be forgiven for thinking surviving antique drop earrings with fringe detail are from the Renaissance, or even earlier. However, these Victorian antique drop earring designs are very indicative of their period and the sentimentality of the people who lived at the time.
As the Victorian era made way for the Edwardian era (known as Belle Époque throughout the rest of Europe), plentiful diamonds from South Africa led to radiant cluster designs, where big bold coloured gems were surrounded by diamonds.
Modern Drop Earrings
By the Art Deco era of the 1920 and 1930s, long earrings were back in a big way. Women of this era were not restricted by long, elaborate hairstyles, and their short bobs could spotlight chunky hoops and long drops with equal splendour.
The wartime requirement for platinum in the 1940s ensured a yellow gold revival, albeit with restrictions. Recycling older jewellery was the order of the day, stripping away the geometry of the preceding decade for something a little more classical and feminine.
From the 1950s, earrings have been free to take whatever form the designer chooses. From simple diamond studs to extravagant coloured gemstone chandelier earrings, there is nothing off the table. With such freedom of expression, earrings are bound to be some of the most personal and personality-driven items in your jewellery box.
Discover our antique drop earring collection, here.
For further information about any of the antique jewellery and vintage jewellery pieces in our collection, please contact us.
Main Image: Antique Drop Earrings with Pearls and Diamonds, Circa 1880.
https://moirafinejewellery.com/earrings/9223-antique-pearl-diamond-bracelet-earrings-suite-1586872570406.html